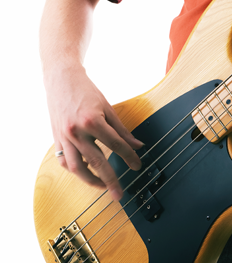 "Offers a firm foundation for any aspiring bassist." – Guitar World Magazine
Learn How To Play Bass Today!
Bass lessons designed by noted bassist John Arbo
Learn bass hits by the Grateful Dead, CCR, Bob Dylan, and others
"No bass" song versions let you jam with a band
140 lessons with videos, interactivity, and more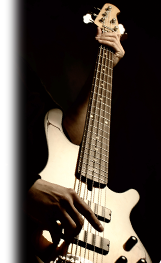 "Soon you'll be playing like a great." – ActiveBass.com
Learn How to Play Bass with a Band!
Learn bass scales with chord concepts and bass theory
Includes both MIDI and audio versions of songs to slow them down
Over 30 bass songs in many styles – folk, R&B, rock, and more!
Bass videos, interactive feedback on your playing, and more
One Week Free — then only $19.95 / month
ENROLL NOW
Learn How to Play Bass Guitar with eMedia's Complete Bass Lesson Software
One eMedia Music Academy Subscription Does it All - from Beginner to Intermediate/Advanced
eMedia Music Academy bass lessons start by covering bass fingering technique, basic bass grooves, and how to read bass tabs and music notation. Then you can apply what you've learned by playing easy bass songs. Your bass tutorial continues with music theory basics and chord construction so you can create your own great bass lines to any song! One simple, inexpensive subscription gives you access to over 140 bass lessons. eMedia interactive technologies make learning how to play bass faster and easier by letting you slow down and loop difficult parts. The computer displays the notes you play on the bass to make it easier to catch your mistakes
Bass Guitar Lessons for Beginners
Noted bassist and teacher John Arbo takes you through a complete bass tutorial with 140 bass lessons that show you how to tune a bass guitar, read bass tabs and notes, play bass scales and master common bass parts. eMedia Interactive Feedback technologies, like the Note and Finger Tracker, make learning bass faster. Bass lessons use popular, easy bass songs like "Rock'n Me" by Steve Miller and the Grateful Dead's "Uncle John's Band" to make learning how to play bass fun.
Learn Music Theory to Create Your Own Bass Part
eMedia Bass Method builds on your initial bass lessons for beginners with more lessons covering intermediate bass concepts such as music theory, chord construction, bass scales, and how to create your own bass parts. Plus there are more great bass songs to play. eMedia music technologies, such as Interactive Feedback and the Animated Fretboard, make it easy to see bass fingerings and whether you are playing the proper notes. Songs and exercises include both audio and variable-speed MIDI tracks that let you slow down the tempo to hear things more accurately. You also get "No Bass" tracks so you can practice what it's like to play with a band. Learn bass guitar the easy and fun way with eMedia interactive technologies! Show more details.